All About Me
---


Name: Jesse Weaver

Hometown: Somewhere in Nebraska

Grade: Sophmore in H.S.

Personal Best: 12' on 2/14/99

How long have you been vaulting?: 4th year

Favorite Links: Vaultworld, JustVault.com, USA Track & Field, Track and Field News


---


The Overview

7th Grade This was my first year pole vaulting. I had wanted to try it since I was 10 or 11. I remember watching it on TV and my Dad telling me stories about when he pole vaulted in High School and College. My dad built me a "pit" and gave me a steel pole to use. We had no pading to land on so we could only get about 6' or so. I was the only one the first day of practice, that knew how to hold a pole correctly. It was your basic first year of the vault. Learning how to run, plant, swing, roll, ect. didn't intrest me at the time, so I just stick vaulted. The first meet we had I placed 3rd with a vault of 7'6". At our confrence meet I think I did about the same and placed 5th. The next two meets we had at our track I placed 1st in one and second in the other. Our next meet I placed 4th. And I didn't place at all at our last meet. Overall it was a year of learning.
8th Grade

My second year pole vaulting was a bit more memorable. It started off the way I had left it the year before. I placed 1st our very first meet with a jump of 8'3. Same thing for our second meet, 1st place - 8'3". At our third meet, was when my dad & my coach started to notice something. I had been taking off the wrong foot for the past two years. I ended up winning that meet with a vault of 8'6". That next week my dad worked with me at getting my right foot to take off first. Our next meet (confrence) was my turnaround point. I blew everyone away with a vault of 10' 6". I easily earned 1st place. At our next meet I broke a meet record and placed 1st with a disapointing 9'6", after I had cleared 10'6" week before. Our last meet of the year was the place where I hadn't placed the year before. There was alot of good competition there. It was a duo after 9' between me and another kid. I cleared 9'6" on my second attempt and I thought it was over cause the other kid was getting tired and was on his final jump, after blowing the first two. But I was wrong, and he cleared it. So it come to 10' I cleared it on my second attempt, and so did he. We went to 10'3" cause we knew both of us couldn't clear 10'6" beacuse we were both tired. Neither one of us cleared 10'3" and he ended up winning with fewer misses. I come in second and that was the end of the Junior High stuff.
9th Grade

I was now in the big leagues. High School wasn't much different, although I got a new pole. My first UCS/Spirit. It was a 13' 120lb. I took that pole to our first meet, which was indoor, and found out I was a little to heavy for it. I was blown away and placed about 11th I think. The next week I fractured me calcanus (heel bone). It took me out of competition for about 5 weeks. I came back for one meet and placed 5th vaulting 9'. And that was the end to a short, and dissapointing freshman year. I just kept telling my self wait until next year.
10th Grade

Well it has arrived. I went to a camp a couple of weeks ago and vaulted 12'. I was excited. Practice starts on March 1, so I'll keep you informed.
---
Some picture's of me vaulting in 8th grade: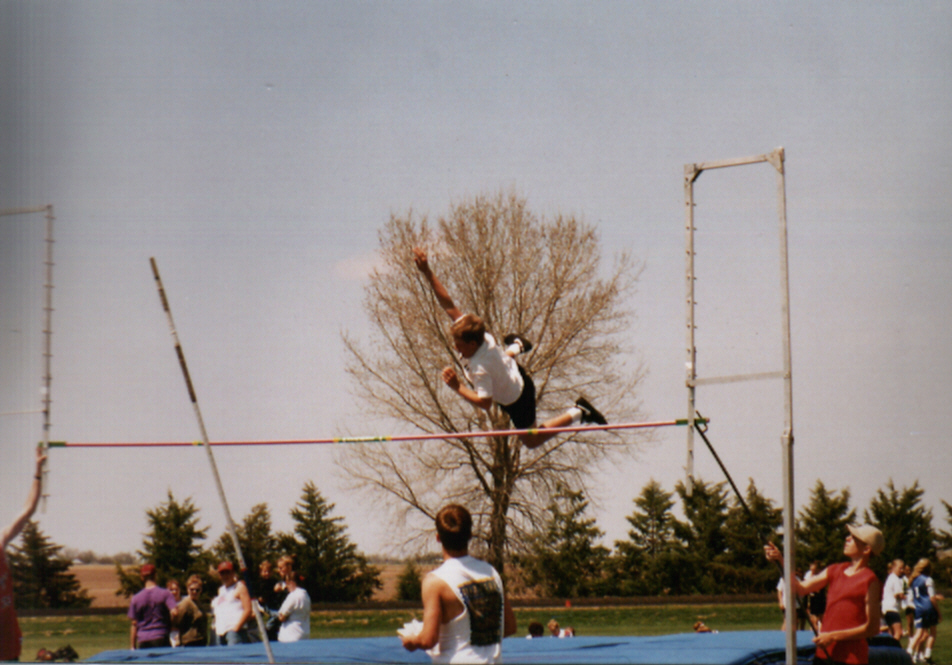 Home
News
Results
Top Vaulters of 1999
About the Author
Links